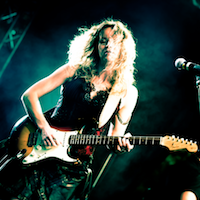 Doors open at 7:00 p.m. - Show begins at 8:00 p.m.
(2021) Ana is nominated Blues Rock Artist of the Year at the 42nd Blues Music Awards (her 7th nomination to date). The BMA's are generally recognized as the highest honor given to blues musicians.
(2020) Instead of a celebration of Ana's 20th year as a touring musician, topped by an extended tour throughout the US and Europe to support her live CD & DVD 'Live for Live', everything came to an abrupt hold due to COVID19. In mid-tour, the band was sent home to wait out the pandemic. That was March 14, 2020. Like most of us, that wait continued until the end of the year and is feared to last far into 2021.
(2019) Ana and her 6-piece band perform an impressive total of 150 shows including 20 summer festivals all over Europe, the US and Canada. She's part of the 'all-star' Experience Hendrix 2019 tour - her 6th year celebrating the music and legacy of Jimi Hendrix.